Get Involved
Projects We Power
The OpenDNS team directly operates other efforts in the "neighborhood watch" space.

Join the anti-phishing effort at PhishTank.com, a free community site. OpenDNS powers PhishTank to help in the fight against phishing, the fraudulent use of the Internet to capture personal information under false pretenses.
PhishTank is a collaborative clearinghouse for data and information about phishing and malware on the Internet. You can add sites to the PhishTank list, for everyone's benefit, and check sites you're concerned about against the database of known phishing sites and servers. Also, PhishTank provides an API for checking the database in your own applications.
Projects We Recommend
There are many worthwhile efforts to defend against bad actors on the Internet. Here is one OpenDNS actively recommends: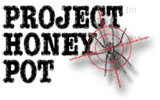 Project Honey Pot (http://www.projecthoneypot.org/) has thousands of members around the world working together to track and stop email harvesters. They try to stop spam on the network, just like OpenDNS does for phishing and malware. We collaborate with Project Honeypot.
Philosophy
Our collective experience in the core Internet technologies gives us some leverage and some ideas about how to improve the experience for everyone.
We aren't the police. But with your help, OpenDNS supports various "neighborhood watch" efforts to improve the internet and help fight the bad actors on the Internet.
Who are the bad actors? Anyone who phishes, spams, distributes malware, or otherwise takes advantage of the global network for unsavory purposes.
How can you get involved? Join the fight at one of the sites listed here.